Specializing in Magical Entertainment
for Children and Families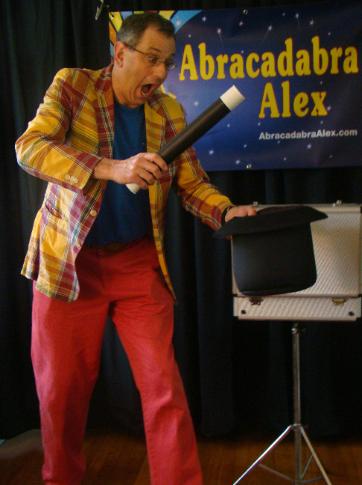 If you're looking for fun magical entertainment for your children's party, you've come to the right place.  Your children and their friends will be entertained by a professional magician who not only will amaze them, but also make them laugh.  Your child will be the star of the show and the envy of his or her friends.
Lots of magicians can amaze their audiences.  You get that with Abracadabra Alex, but even more importantly, you also get a very real and special engagement and interaction with the kids, so that they know they were part of something special.
To make a birthday even more special, Abracadabra Alex can make a balloon animal for each child to take home.  He also offers a short magic lesson, after which the kids get to take home a magic trick or two. It's a lot of fun and better for your teeth than the traditional "goody bag."
Alex is amazing!!! We had the pleasure of being entertained by Abracadabra Alex for my nephews 5th birthday party. From the moment he started until the moment he ended ALL of the children were amazed. The birthday boy thought everything Alex did was exciting and loved that he got to walk away with awesome goodies (his own magic trick, a hat, and a magic wand!!!)
Alex was so patient with all of the children and when it came time to make balloon animals was kind enough to make multiple animals for the kids who popped theirs.
I would recommend Alex to anyone who wanted a special touch added to their child's birthday party!!!! He is kind, very professional, and easy to get in contact with!!!!
We would definitely use him again.
THANKS ALEX!!!!!!!

Kimberly D.


9/25/2016

Abracadabra Alex appeared at our son's 3rd birthday this fall.  He did a fantastic job of entertaining a rambunctious group of about 25 kids, ages 2-9.  The show was simple enough to keep the younger ones amused, but complex enough to keep the older, more suspicious, kids guessing.  A great combination of gentle humor and tricks.  The kids, and adults, were rapt.  We would use him again in a heartbeat--lots of compliments from everyone who attended!

Sarah K.


1/28/2012

When you have a birthday party for a 9 year old and the party is a magician, the magician will certainly make or break the party - and boy did Abracadabra Alex deliver!  We were nervous about signing up any magician we hadn't personally seen, but boy were we pleased with Alex.  He entertained 25 kids plus approximately 10-12 adults for more than an hour, and used a nice mix of comedy and magic to keep everyone engaged and wanting more.  He did a great job of engaging with my son (the birthday boy), and I would highly recommend Abracadabra Alex for your event.  He was very easy to work with, schedule, and was the highlight of our party!

Etan G.


3/09/2016

I was very hesitant to hire someone I found online, but this is one time I am glad I took a chance!  Alex was great to work with and made my daughter's 3rd birthday party a big success.  He was able to keep the attention of 25 kids, most 2-3 years old, for over 30 minutes - not an eay task. My normally shy daughter loved being part of the act, and her 5 year old big sister has already asked if one of her friends could have Abracadabra Alex come so she can see him again. Alex clearly loves what he does and we have already recommended him to friends!

Laura H.


11/16/2015
Abracadabra Alex knows his magic, loves kids, and is extremely humorous.  He recently performed at my daughter's 6th birthday party and he had nearly 20 kids completely mesmerized, and all the adults entertained as well.  He also does fantastic balloon animals.  We loved it!
Abracadabra Alex was WONDERFUL!  He helped us celebrate our son's 5th birthday by coming to his class (ages 4-5).  He engaged all of the kids in a way they all felt special and felt like THEY were a part of the performance.  The class (including adults that were present) laughed heartily and enjoyed every moment. We are HUGE Abracadabra Alex fans!
Contact Alex Now at 202-557-0300 or alex@abracadabraalex.com