Specializing in Magical Entertainment
for Children and Families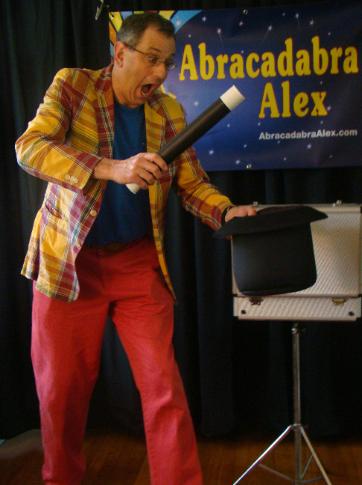 If you're looking for fun magical entertainment for your children's party, you've come to the right place.  Your children and their friends will be entertained by a professional magician who not only will amaze them, but also make them laugh.  Your child will be the star of the show and the envy of his or her friends.
Lots of magicians can amaze their audiences.  You get that with Abracadabra Alex, but even more importantly, you also get a very real and special engagement and interaction with the kids, so that they know they were part of something special.
To make a birthday even more special, Abracadabra Alex can make a balloon animal for each child to take home.  He also offers a short magic lesson, after which the kids get to take home a magic trick or two. It's a lot of fun and better for your teeth than the traditional "goody bag."
Alex made my son's 6th birthday great! He has a special way with children -- and does some real magic 🙂 I've been a bit disappointed in the other magic shows I've been to, but Alex was fantastic. The kids and parents loved his tricks. He did a bonus balloon art thing for my son while the kids were eating, which they all loved. Also, he is great to work with -- very kind, understanding and patient -- a thorough gentleman. Finally, his goody bags are super -- well-priced, with pretty cool magic stuff.

Tara B.


12/02/2018

We had Abracadabra Alex for my 5-year-old's birthday party and he did a fantastic job! He held the interest of over 20 five year olds for the entire show and clearly knew his audience. The jokes and tricks were very age appropriate. Our friends commented they could hear kids laughing all the way down the block. Alex was very professional, prompt and enjoyable to work with. He also made the birthday girl feel very special. Overall, it was a great experience.

Dalia K.


5/23/2017

We hired Alex for the birthday party of my daughter who has just turned 6. Already from the first communication he was very helpful and thorough with his explanation about what he would do and what we could expect, and about the prices too. He was very helpful in thinking together with us on what would be best meeting our wishes and was even very flexible too, as we changed our minds a bit during the process. We had first thought about doing the birthday party for both our daughters, but because it was getting a bit too complicated we decided against it. However, upon one simple request he made a big effort to include our youngest daughter just a bit more too, which she really liked. We also had asked to lengthen the show a bit, and he gave us various options to do that. That was really helpful.

The show itself was truly great. I could not follow everything as we were talking with other parents, but he managed to entertain a group of more than 30 (!!) 5 and 6 year olds and even some smaller children, and they were able to stay focused during the entire show! Really, that deserves a nobel price, I was surprised and very happy to see that! The show is highly interactive, fun, and the kids all were really into it. I can't post pictures as there are other people's children on them too, but the pictures just tell it all: everyone loved it! I even got more than one compliment from other parents about him!!

I highly recommend this magician!!

Barbara S.


12/11/2017

Alex came to my daughters first birthday party (so it wasn't really for her as much as it was for all the other kids ages 3-13, and even a bunch of adults). The show was great!  Not only did he wow the kids with his magic, but he has them laughing and and very much involved the entire time. For an entire hour no one has to watch over their kids as he has their undivided attention.  You really cannot go wrong with Alex. I've been to a lot of kids parties and he was by far the best entertainment I've seen.

Thank you Alex!

Rudi S.


12/05/2017
Abracadabra Alex knows his magic, loves kids, and is extremely humorous.  He recently performed at my daughter's 6th birthday party and he had nearly 20 kids completely mesmerized, and all the adults entertained as well.  He also does fantastic balloon animals.  We loved it!
Abracadabra Alex was WONDERFUL!  He helped us celebrate our son's 5th birthday by coming to his class (ages 4-5).  He engaged all of the kids in a way they all felt special and felt like THEY were a part of the performance.  The class (including adults that were present) laughed heartily and enjoyed every moment. We are HUGE Abracadabra Alex fans!
Contact Alex Now at 202-557-0300 or alex@abracadabraalex.com